Is Spinal Decompression Therapy right for me?
Whether or not you are a candidate for spinal decompression therapy can only be determined by reviewing your health history, treatment history, and test results. Please contact the office to schedule an appointment.
How does the DRX 9000™ work?

The DRX9000™ provides a primary treatment modality for the management of pain and disability for patients suffering with incapacitating low back pain and sciatica associated with herniated discs, bulging or protruding intervertebral discs, degenerative disc disease, posterior facet syndrome, and radicular pain. It is designed to relieve pressure on the structures causing pain by applying de-compressive forces to compressive and degenerative injuries of the spine using logarithmic distraction tensions applied to the patient according to doctor recommended protocol. In plain talk, it relieves the pain by gently separating the vertebrae above and below the involved disc which causes a vacuum effect. This draws the bulge or herniation back within the disc space and allows fluids, nutrients and oxygen from the surrounding tissues to return to the disc, resulting in disc re-hydration and repair.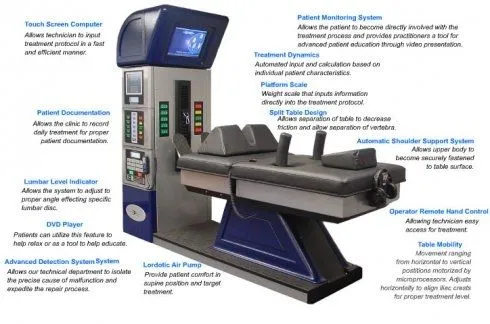 What does Spinal Decompression Cost and will Medical Insurance pay for it?
In terms of time and money, Spinal Decompression Therapy is significantly less expensive than surgery (even if you are only paying co-pays for surgery).
Unfortunately, Medical Insurance will not pay for this type of therapy. At this time there is no payable ICD (billing) code.


What is the DRX 9000™?
The DRX 9000™ is a spinal decompression system which was approved for marketing by the FDA in May 2006. It has revolutionized the field of spinal traction. The DRX9000™ offers patients an alternative to surgery which has proven to very effective in decreasing pain and symptoms for many patients.
What does Spinal Decompression Therapy look like?
Once it is determined that Spinal Decompression is an appropriate treatment for your condition, you will be scheduled for a series of 60-90 minute appointments. Each treatment session begins with cryotherapy (application of warmth) and a small survey about how you are feeling. The treatment continues with a number of Spinal Decompression cycles which takes 25-30 minutes. Your session ends with another application of cryotherapy (this time the application of cold). You will start with 2-3 treatments the first week or so with treatment intervals increasing as you progress.
In the beginning of treatment, it may be recommended that you wear a lumbosacral support brace and limit your activities. Bending, lifting, twisting, pushing, pulling, (for example, housecleaning) and sitting or standing for extended periods of time should be avoided. If your job involves these types of activities, you should consider taking some time off. Additionally, you will be asked to use a cold pack or ice several times a day and consume adequate amounts of water. Supportive nutritional supplementation may also be recommended.
As you progress, you will be instructed in gentle stretching exercises and walks of short duration will be encouraged. As you continue to improve your exercises will also progress from gentle stretching to core and lumbar stabilization and strengthening exercises.
Related Resources