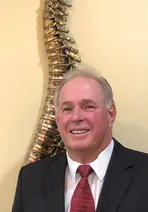 Dr. Giulio Cogo is a doctor of chiropractic and the founder and original owner of the Livingston Chiropractic Clinic. He studied and received his degree from Palmer College of Chiropractic in Davenport, Iowa. He has been a vibrant member of the Brighton community. He raised his family here and has been active in the development of the area. Dr. Cogo treated patients at Livingston Chiropractic for 44 years beginning in 1977.

Dr. Stuart Meyers
became the new owner of Livingston Chiropractic in December 2021. We were very lucky to get him and excited to welcome him to the Livingston Chiropractic family. He comes to Brighton from Texas and brings with him a wide array of experience. He has expanded the focus of the practice and made us The Livingston Clinic (TLC) with the addition of care programs for knee pain, neuropathy, and postural care.
Marilyn is the Office Manager and Gal Friday around the office. She started working at Livingston Chiropractic Clinic in 2002. She is a University of Michigan graduate (Go Blue!). She has lived in Brighton since 1991. She has a husband, four daughters, 3 sons-in-law, and 5 grandsons.
Stacy is one of our valued Chiropractic Assistants. She is relatively new to the Livingston County area. She has an energetic personality and is always busy around the office, especially in our Rehab Room.
Josie is the newest addition to our staff. She is mainly responsible for running our front desk, but she is a very capable CA and will make sure you get the attention you deserve.