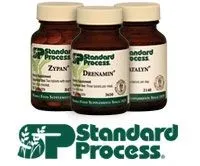 Livingston Chiropractic Clinic carries a variety of spinal care products from supportive braces and lumbar pillows. If we do not have something, we will gladly order it for you.
"The passion Standard Process has for nutrition began with our founder, Dr. Royal Lee, in 1929. Since the development of our first multivitamin, Catalyn®, our goal has been to provide nutrients for the body as they are found in nature – in a whole food state where their natural potency and efficacy can be realized. We remain committed to providing the safest, highest quality dietary supplements through health care professionals to help improve and optimize health and wellness.
Given proper nutrition, the human body has an amazing ability to heal itself. To do so, we need to eat a healthier diet, exercise, and take high-quality supplements made from whole foods. Whole food supplements supply our bodies with nutrients we are not getting from our diet, all the vitamins, minerals, trace minerals, and phytonutrients that foods possess in a way that nature intended, in a whole food form." - StandardProcess.com
For our patients whose health and well-being require it, some Standard Process products are available for purchase at the Livingston Chiropractic Clinic. For more information regarding Standard Process, please visit their website at standardprocess.com.